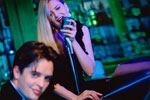 About Pharoah Sanders
"A rare opportunity to catch a highly influential and enduring jazz tenor player whose living peers can be counted on the fingers of one hand." - Rick Mason, City Pages
Pharoah Sanders possesses one of the most distinctive tenor saxophone sounds in jazz. Harmonically rich and heavy with overtones, Sanders' sound can be as raw and abrasive as it is possible for a saxophonist to produce. Yet, Sanders is highly regarded to the point of reverence by a great many jazz fans. Although he made his name with expressionistic, nearly anarchic free jazz in John Coltrane's late ensembles of the mid-'60s, Sanders' later music is guided by more graceful concerns.
The hallmarks of Sanders' playing in the 1960s were naked aggression and unrestrained passion. In the years after Coltrane's death, however, Sanders explored other, somewhat gentler and perhaps more cerebral avenues, without sacrificing any of the intensity that defined his work as an apprentice to Coltrane.
In 1964, Coltrane asked Sanders to sit in with his band. The following year, Sanders was playing regularly with the Coltrane group. Coltrane's ensembles with Sanders were some of the most controversial in the history of jazz. Their music represents a near total desertion of traditional jazz concepts, like swing and functional harmony, in favor of a teeming, irregularly structured, organic mixture of sound for sound's sake. Strength was a necessity in that band, and as Coltrane realized, Sanders had it in abundance.
Sanders made his first record as a leader in 1964. After John Coltrane's death in 1967, Sanders worked briefly with his widow, Alice Coltrane. From the late 1960s, he worked primarily as a leader of his own ensembles.
In the decades after his first recordings with Coltrane, Sanders developed into a more well-rounded artist, capable of playing convincingly in a variety of contexts, from free to mainstream. Some of his best work is his m
Details
Start:
July 26, 2017
End:
July 26, 2017
Where:
Dakota Jazz Club & Restaurant 1010 Nicollet Mall
Minneapolis,
Minnesota
55403
United States
Phone:
Event Type:
Concerts & Music
Ticket Price: